Posted on March 13, 2005 at 07:27:22 PM by George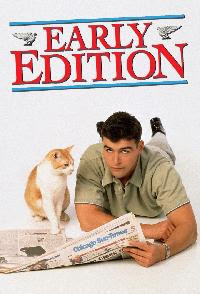 EARLY EDITION TV SERIES

The story breaks. Extra, Extra, 4 Mounties Slain. The Word of the Day: heinous - grossly wicked or reprehensible. He was convicted of a heinous crime. How appropriate. However, the serious material is hidden in Post Mortem Avenue on Monday March 7th.

In 'We'll drink to that!' the first section refers to references about cars. Wasn't there a chop shop operation at Roszko's farm? "ole Number 7" and "50,000 road fatalities" are mentioned. Again the road of the farm 75. "You can bet on how many will be killed." Can you?

In the next part '50 Cent Divests Colleague of Crew Status'. "Rapper 50 Cent...has officially demoted fellow rapper The Game and removed him from his 'crew', the rap group G-Unit. Mr. Cent also stripped him of 'posse' and 'entourage' status but declined to provide details..."

"Demotion from 'crew' status is one of the most serious sanctions the rap community can impose, and OFTEN LEADS TO A RITUAL EXCHANGE OF GUNFIRE. In fact, Mr. Game heard about his demotion in a formal 'disrespectation' on a New York radio station. Mr Game and his 'entourage' immediately drove to the radio station, where they confronted members of Mr. Cent's 'entourage', leading to a gunfight in which one of Mr. Game's 'associates' was injured.

"Game to surrender the accoutrements of his station, such as large medallions, over sized rings and jeweled dental adornments. In Toronto Post Mortem has its base camp...rat-a-tat-tat-tat...Wake up the po-lice, the house be rockin' tonite!"

If we were going to describe what happened at the farm, this would have interesting parallels. However, we are not alone. British Codebreakers at Bletchley Park are working on the Templar's Code too. However, algorithms may not be required in 13th century codes. Veils and logic in deduction are more suitable I think.

Post Mortem also makes reference to a head covered with towel and a bottle of Crown Royal. I would be interested if one of the bodies was covered with a towel or if there was a bottle of Crown Royal at the crime scene. If they were the RCMP Commissioner would have been quite correct in referring to the deaths as a "sacrifice".